PAGE IS LOADING.....

~ Admiral Flatley Award ~
~ Ship Of The Year ~
~ Golden Anchor Award ~
~ Marjorie Sterrett Battleship Award ~
~ Thomas Jefferson Award ~
---
Award
Dates
Sources
Navy Unit Commendation
Seven Awards
07-FEB-1965 18-OCT-1965
12-AUG-1966 01-FEB-1967
13-AUG-1967 19-FEB-1968
10-OCT-1968 31-MAR-1969
15-DEC-1971 01-JUL-1972
02-OCT-1985 19-MAY-1986
23-MAR-1986 17-APR-1986
1,3
Meritorious Unit Commendation
Five Awards
27-OCT-1969 01-JUN-1970
22-APR-1975 30-APR-1975
15-MAY-1975
07-MAR-1978 01-MAY-1980
30-MAR-1988 30-SEP-1989
1,3
Navy Expeditionary Medal
Three Awards
01-FEB-1980 05-MAY-1980 * D
11-OCT-1981 20-OCT-1981 * D
20-JAN-1986 05-MAY-1986 * F
1
Navy Occupation Service Medal
Five Awards
19-SEP-1949
06-APR-1951
04-SEP-1951
27 April 1952 to 9 October 1952
14-OCT-1953
21-SEP-1955
2,12
National Defense Service Medal
Two Awards
2
Armed Forces Expeditionary Medal
Thirteen Awards
25-APR-1961 28-APR-1961 * I
30-APR-1961 01-MAY-1961 * I
04-MAY-1961 09-MAY-1961 * I
12-JAN-1962 19-JAN-1962 * I
24-JAN-1962 27-JAN-1962 * I
02-FEB-1965 05-MAR-1965 * I
16-MAR-1965 17-APR-1965 * I
02-MAY-1965 28-MAY-1965 * I
23-JUN-1965 03-JUL-1965 * I
23-JAN-1968 22-MAR-1968 * J
10-DEC-1969 11-DEC-1969 * J
29-APR-1975 30-APR-1975 * N
15-MAY-1975 * O

1,3
Vietnam Service Medal
Twenty Nine Awards
04-JUL-1965 24-JUL-1965
11-AUG-1965 11-SEP-1965
21-SEP-1965 15-OCT-1965
12-SEP-1966 19-OCT-1966
30-OCT-1966
01-NOV-1966 04-DEC-1966
26-DEC-1966 01-FEB-1967
26-AUG-1967 01-OCT-1967
12-OCT-1967 28-OCT-1967
04-NOV-1967 05-NOV-1967
11-NOV-1967 08-DEC-1967
16-DEC-1967 07-JAN-1968
15-JAN-1968 21-FEB-1968
11-OCT-1968 03-NOV-1968
14-NOV-1968 08-DEC-1968
26-DEC-1968 27-JAN-1969
10-FEB-1969 02-MAR-1969
20-MAR-1969 30-MAR-1969
26-OCT-1969 18-NOV-1969
22-DEC-1969 19-JAN-1970
17-FEB-1970 09-MAR-1970
19-MAR-1970 11-APR-1970
28-APR-1970 01-JUN-1970
14-DEC-1971
31-DEC-1971 17-JAN-1972
26-JAN-1972 17-FEB-1972
01-APR-1972 11-MAY-1972
01-JUN-1972 11-JUN-1972
21-JUN-1972 02-JUL-1972
1
Humanitarian Service Medal

29-APR-1975 30-APR-1975 * N
1
Sea Service Deployment Ribbon

1982
9
Republic of Vietnam
Gallantry Cross Unit Citation

12-OCT-1965
20-NOV-1966 21-NOV-1966
29-DEC-1966
23-NOV-1967
02-DEC-1967
04-DEC-1967
20-DEC-1967 22-DEC-1967
20-JAN-1968
23-JAN-1968 27-JAN-1968
29-JAN-1968 19-FEB-1968
15-OCT-1968
17-OCT-1968 18-OCT-1968
21-OCT-1968
25-OCT-1968 27-OCT-1968
14-NOV-1968 16-NOV-1968
23-NOV-1968
25-NOV-1968
28-NOV-1968
01-DEC-1968 02-DEC-1968
04-DEC-1968 05-DEC-1968
30-DEC-1968
01-JAN-1969 03-JAN-1969
05-JAN-1969
07-JAN-1969 10-JAN-1969
14-JAN-1969 19-JAN-1969
22-JAN-1969
24-JAN-1969
26-JAN-1969
09-FEB-1969 20-FEB-1969
22-FEB-1969 03-MAR-1969
19-MAR-1969 31-MAR-1969
1
Republic of Vietnam
Campaign Medal

3
Battle Efficiency Award
Four Awards
1952
1954
1955
22-AUG-1968
8, 3
Engineering Excellence
1961,1982
9
Excellent Air Department
1968, 1982
9
Superior Medical Service
1980, 1982
9
Communications Excellence
1968, 1969
7
Excellent Deck Efficiency
?
10
Admiral Flatley Award
Six Awards
1965
1969
1970
1973
1978

3
Golden Anchor Award
Six Awards
1973
3
Ship Of The Year
1965
11
Marjorie Sterrett Battleship Award
1968
3
SOURCES:

1= OPNAVNOTE 1650
*D = Iran/Indian Ocean
*F = Libya
*I = Vietnam
*J = Korea
*N = Operation Frequent Wind
*O = Mayaguez Operation
2 = Aircraft Carrier Study Group
3 = More Than Just A Ship - Pete Clayton
4 = Flat-Tops and Fledglings - Pawiowski
5 = 1979/80 Cruise Book
6 = 1990 DECOM Cruise Book
7 = 1969/70 Cruise Book
8 = 1968/69 Cruise Book
9 = 1982 Cruise Book
10 = 1982 Ships Poster
11 = Our Navy Magazine January 1966
12 = Sal Avellino received this Medal and Letter for the 1952 cruise
---

I have used several resources for the information on this page. They are OPNAVNOTE 1650, research from the Aircract Carrier Study Group, variuos publications, cruise book photos of the ribbon bar from some years and help from shipmates. No single source seems to be complete. So, this is the best piecing together I could do from all the sources.

If you have credible sources for awards or good pictures of the ribbon bar from any years, I would appreciate any input so we can get the full and complete Awards history correct. Read through your cruisebooks. Some of them have a brief history of the ship and sometimes list awards or have pictures with the ribbon bar in the background. Thanks! If you are looking to check on your own personal awards, read below for information on how to find them. Please do not ask me to check for you. The information on this page is as far as I can go on helping anyone.


---



Medal & Ribbon References





~ Replacement Medals ~



Veterans are entitled to one replacement set of their medals. The Standard Form (SF 180), is recommended for requesting medals and awards. Provide as much information as possible and write "Do not open in mailroom" on the outer envelope. Send the form to:

Bureau of Naval Personnel Liaison Office
Room 5409, 9700 Page Avenue
St. Louis, MO 63132-5100

To obtain information about unit awards earned, contact the Chief of Naval Operations, Awards and Special Projects Branch at the address below. This office can identify awards earned by Navy units.

Chief of Naval Operations
Awards and Special Projects Branch (Code N09B33)
2000 Navy Pentagon
Washington, D.C. 20350-2000



~ Ribbon & Medal Resources ~



Navy Medals & Ribbons - Order of Precedence
Navy Medals & Ribbons - Order of Precedence #2
Navy Medals & Ribbons - Order of Precedence #3
Navy Medals & Ribbons - Good Definitions
Official US Navy Unit Awards Document - OPNAV Notice 1650 - Download PDF
Military Graphics - Store with thorough listing of Medals & Ribbons
Build your own Ribbon Bar
Build your own Ribbon Bar #2
What the markings mean on a ship


---
Miscellaneous photos of the awards from various years: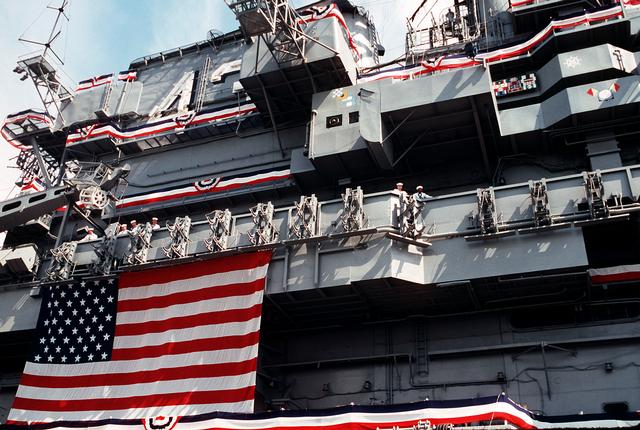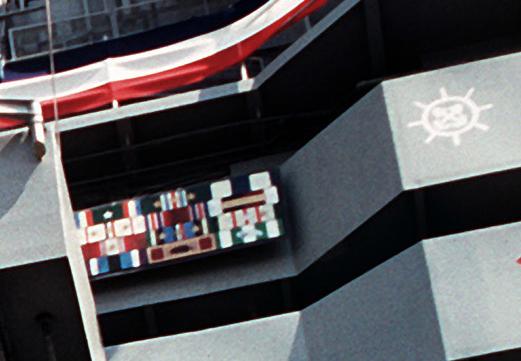 1990 DoD photos
Can you identify row 2 of the ribbon bar? Best guess is L to R | Asia-Pacific Campaign Medal | WW2 Victory Medal | Presidential Unit Citation |
*** Note: CV-43 did not qualify for the first two or was ever awarded the 3rd as best I can determine. My assesment is that somehow they included CVE-57 (former USS Coral Sea) Awards.
Is that a Navigation award next to the ribbons???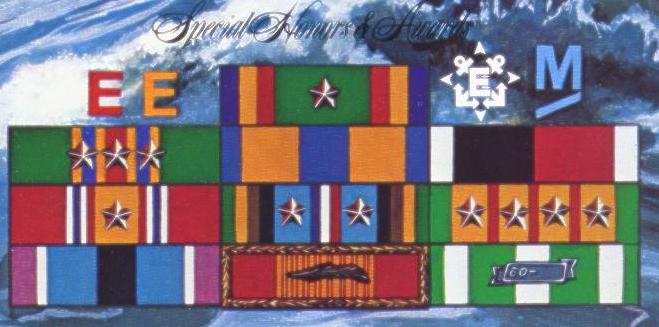 Poster of the ship - 1982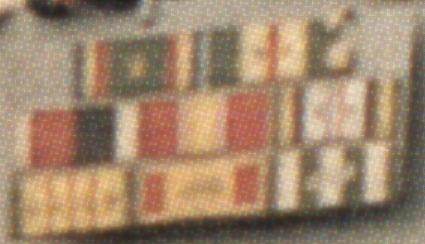 1979/80 Cruise Book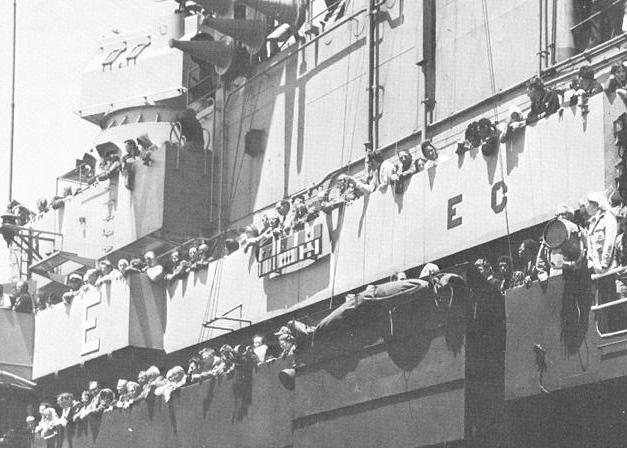 1969/70 Cruise Book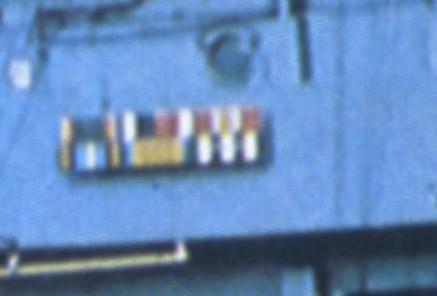 1967/68 Cruise Book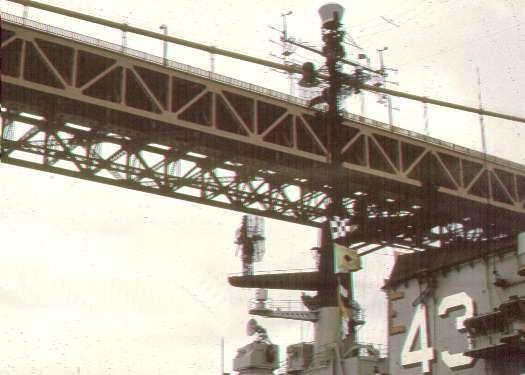 1961 Engineering "E" on stack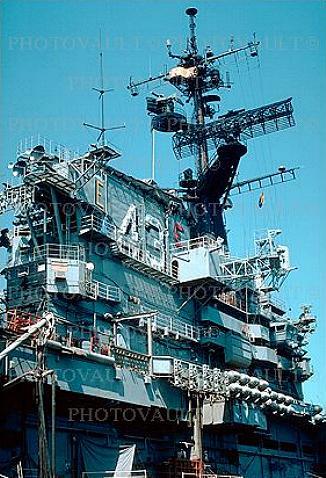 1982 - Two big E's on the stack. Engineering and Air Excellence.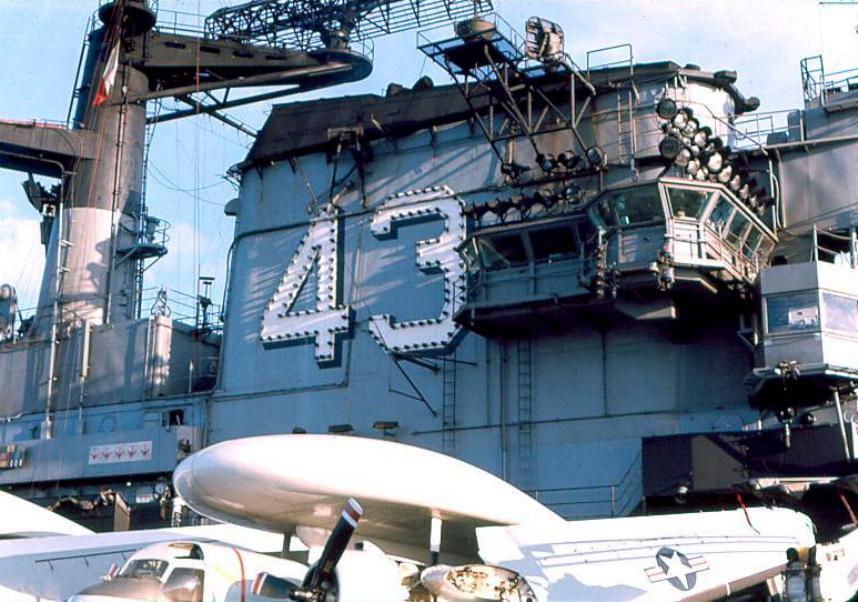 1973 Notice the 5 Mig kills displayed on vultures row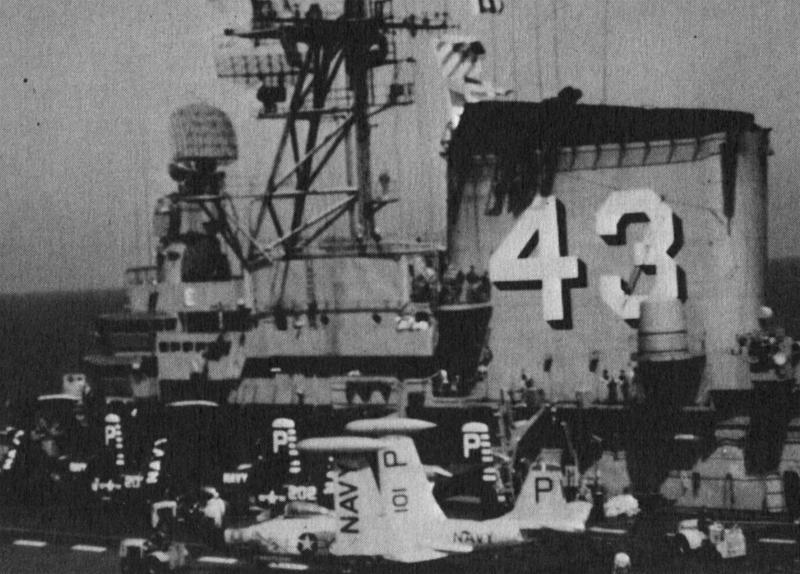 1955 Battle "E" on the bridge wing.
---
!!!!!!!!!! Help !!!!!!!!!!
I need YOUR help to make this site great. I need any stories, photo's or ships information that you have on the Coral Sea. I can scan photo's for you if you don't have a scanner, email me for details. Please donate your memories so all Coral Sea crew members and their family's can enjoy this site to its fullest. Also let me know if anything you see here is in error. Thanks!!!