Date
Enemy Aircraft
USS Coral Sea Aircraft
Weapon
Pilot/Rio
Notes
6 Oct 1965
MIG-17
VF-151 - F-4B NL 107
AIM-7D
LCdr. Dan Macintyre
Ltjg. Alan Johnson
First Coral Sea Air-to-Air Victory
19 Nov 1967
MIG-17
VF-151 F-4B NL 110
AIM-9D
LCdr. Claude D. Clower
Ltjg. Walter O. Estes
Probable. *** Read story below ***
6 Mar 1972
MIG-17
VF-111 F-4B NL 201
AIM-9D
Lt.Garry L. Weigand
Ltjg. William C. Freckleton
*** Read story below ***
6 May 1972
MIG-17
VF-51 F-4B NL 100
AIM-9
LCdr. Jerry B. Houston
Lt. Kevin T. Mooren
10 May 1972
MIG-17
VF-51 F-4B NL 111
AIM-9
Lt. Kenneth L. Cannon
Lt. Roy A.Morris, Jr
11 Jun 1972
MIG-17
VF-51 F-4B NL 114
AIM-9
Cdr. Foster S. Teague
Lt. Ralph M.Howell
11 Jun 1972
MIG-17
VF-51 F-4B NL 113
AIM-9
Lt. Winston W. Copeland
Lt. Donald R. Bouchoux
---
USS Coral Sea - 19 Nov 1967 - MIG CAP patrol - VF-151 F-4B NL 110
LCdr. Claude D. Clower - Pilot Ltjg. Walter O. Estes - RIO
I have spoken with CDR. Doug Clower (Ret.) several times. He is positive that he had a MIG kill, although it was not officially confirmed by the Navy. Here is his story as related to me over the phone. I have subsequently corresponded with Lt. Ted Stier, the RIO (back seater)in the other Phantom in the mission. His comments appear in italics.
Two Navy F-4B's launched from the USS Coral Sea were on a MIG CAP patrol escorting A-4's from the USS Intrepid in to the Red River Valley. The North Vietnamese sent up two MIG 17's in front of the F-4's. This was a move to bait the F-4's in to jumping them. Why? Because behind the F-4's were four MIG 21's waiting for the Phantom's to take the bait.
Clower and Walt Estes were in the lead a/c. We were flying in a combat wing formation and Migs were known to be operating in the target area as we were receiving transmissions from Red Crown. Jack Teague and I were on Clower's left at about the 9 o'clock position about 500 ft out when Walt called Migs 3 o'clock high. I rogered and looked up and saw 2 -17's sweeping into firing position. I called their clock positions, three ,four, five o'clock to Jack but he stayed in position as Clower continued on the same course and took no evasive action. Next I saw a missile leave Clower's a/c, and as I remember it was a Sidewinder. About the same time the 2 -17's were settling in on a firing position and I yelled to Jack "let's get the hell outta here".
LCdr. Clower saw the first MIG-17 at about 170° nose-on closing fast. He knew the MiG couldn't manuver in to a position to do anything right then, and let him pass behind him. He immediately picked up the second MiG-17 with a tone from his sidewinder. The MiG-17 was in front of him in a shallow left turn . He commenced a 1-2G left turn to get inside the MiG-17 for a better tone and track for the sidewinder. As the tone got better he fired an AIM-9B. It just missed and detonated close by due to the proximity fuse. He swung his F-4 in tighter on the MIG and got a good tone with an AIM-9D. He was right on top of the MIG-17 and fired the sidewinder. At that same moment he got a frantic call from his wingman to "Break left", so he was unable to see the missile hit, but there is no way it could have missed. As he was breaking left a missile came up under his right wing and detonated just in front of the wing of his Phantom, the right wing was gone. He called "get out" to his RIO and ejected.
LCdr. Clower points out that he never heard Red Crown. It has troubled him since that time that there were no E-2's or transmissions from Red Crown because the Phantoms would not have been in that area or would have approached it differently had they known MiG's were present.
The only Migs I saw were the ones Walt Estes called. As far as the "Break" call perhaps Walt called it or maybe I transmitted in the open when I told Jack "let's get the hell outta here" and Doug took that to mean break. I do remember that the missile Doug fired exploded but I didn't see it hit an a/c. There was an explosion in front of his a/c about a mile, plus or minus but I didn't see any a/c in front of him. Maybe I was too busy watching the 2 Migs closing in on us. I then saw Clower's a/c explode in a ball of flames and saw one chute. Jack and I then came under fire as tracer's enveloped our a/c. The Mig firing and tracking us broke off the engagement for whatever reason and went his merry way. I could tell our a/c wasn't responding properly and asked Jack " what was wrong" he replied "we've had it, stay with me" I gave him a heading to the coast and as he slowly turned the a/c, we lost flying speed and the a/c went into a flat spin like a leaf falling to the ground. I told Jack I was ejecting.
As Clowers parachute deployed he descended through 4000 feet. That's when he noticed a mustard colored parachute in front of him at about his 11 o'clock. He then turned and noticed another chute behind him at his 5 o'clock. The Navy used all white chutes at that time, this had to be his RIO, Ltjg. Walter O. Estes. There was only one explanation for the yellow/mustard parachute in front of him, it had to be from the MIG-17 he had just fired his sidewinder at. (The dirty yellow or mustard colored chutes were noticed by other US pilots in Vietnam that had shot down MIG's.)
Subsequent to his capture, he was visited in the POW camp by a North Vietnamese pilot claiming to be the one that shot him down. This is where LCdr. Clower was told of the tactics of using two MIG-17's to sucker and four MIG-21's to jump the American fighters. An interesting side note is that the North Vietnamese pilot communicated the tactics they used by drawing the engagement in the dirt. The NVAF pilot would not confirm or deny the MIG kill.
Some documentation suggests that Clowers Phantom was brought by down by 37/23mm gunfire from the MiG 17's. The MiG 17's did not carry air-to-air missles. And clearly from the accounts of Clower, Stier and the NVAF pilot, he was brought down by a missle. So where did the missle come from that blew off his wing? Had to be from a MiG 21.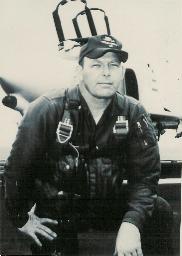 Image Source - Doug Clower
LCdr. Claude D. Clower posing in front of his F-4B aboard the USS Coral Sea the day before his MIG kill/shoot down.
---
USS Coral Sea - 6 March 1972 - MIG CAP patrol - VF-111 F-4B NL 201
Lt Garry Weigand - Pilot Lt(jg) Bill Freckleton - RIO
Old Nick Nabs Another -

NL-201 (BuNo 153019) was an F-4B Phantom that belonged to the VF-111 Sundowners embarked on USS Coral Sea (CVA-43) during the Nov 1971 to Jul 1972 cruise to SEA. Using the callsign, 'Old Nick two-zero-one', the aircraft was flown by all the squadron pilots and Radar Intercept Officers at one time or another during the cruise, but on 6 March 1972 it was flown by Lt Garry Weigand and Lt(jg) Bill Freckleton. When they launched off the USS Coral Sea that afternoon and headed toward North Vietnam they had no idea the mission would ultimately end with their engagement and shoot down of an enemy MiG-17 aircraft near Quang Lang airfield.

Weigand and Freckleton had flown many missions together over South and North Vietnam and Laos, and on 6 March, they were flying wing to Lt Jim Stillinger and Lt(jg) Rick Olin on a MiGCAP mission 50 miles north of Quang Lang airfield in NVN where an A-5 Vigilante recon mission was taking place. Between the two aircraft there was just one pulse radar (this was Rick Olin's radar and it was limited to the search mode which negated any sparrow employment). In fact, there was no sparrows aboard Old Nick 201, there was only a sidewinder capability which (for that older model- AIM-9D) meant any shoot down would have to be from the rear quarter..

The two F-4s from the Coral Sea had just arrived on station when they were advised by Red Crown that there were Red bandits to the south of them. The controller kept them informed of the MiG's position by constantly giving range and bearing calls: "Red bandit bearing 230 degrees at 15 miles, 240 degrees at 10, 250 at 8, 270 at 6, 295 at 4 miles." Neither crews in the F-4s had obtained a visual contact with the enemy aircraft. Then, as they were in a descending starboard turn, a final bearing and range call of 330 degrees and 2 nautical miles was given. The Red Crown controller was now desperate and radioed for them to 'look left and look low'. The lead F-4 manned by Stillinger and Olin took the flight into a left bank and immediately saw what they were being vectored on- a single green MiG-17 at a 1000 ft AGL aggressively pulling his nose up into them. The Phantom crews' combat training and responsibilities were now going to be put to the real test. Lt (jg) Freckleton, who, without radar, immediately loosened his straps and began a twisting and turning in his cockpit visually looking for the MiGs that had been called out near Quang Lang. Lt Weigand, a fighter pilot in every sense, followed Stillinger's instructions to go to a high cover position. As Stillinger and Olin engaged the MiG they descended to low altitude losing radio contact with Red Crown.

As they rolled into the MiG and Jim Stillinger began executing a series of scissors maneuvers in an attempt to get to the MiG's six o'clock. At one point, he fired a sidewinder which the MiG-17 pilot must have seen because he skillfully and effectively evaded it. The MiG driver was proving to be extremely aggressive and agile in handling his aircraft and Stillinger called Weigand to cover him as he put his nose down and proceeded to extend away from the MiG. Determined to chase the F-4 down, the MiG-17 pilot lit his afterburner and proceeded to go after Stillinger and Olin to blast them out of the sky.

As the extension was taking place, a sandwich situation soon developed when Weigand and Freckleton came back down from cover position and engaged from the rear quarter. With Weigand at the controls, they easily got into a 6 o'clock position with either the MiG-17 pilot not seeing them, or, ignoring them due to his concentration with closing on the F-4 in front of him. With a good sidewinder tone indicating the missile was locked on a heat source, Freckleton was shouting for a missile launch as Weigand pressed his trigger switch to release the AIM-9D sidewinder from the port side of NL-201.

The missile tracked true to the heat source of the afterburning MiG, and went right up its tailpipe. The subsequent explosion took the enemy aircraft's tail off and it immediately began a fatal descent to the ground only a few hundred feet below. With debris from the explosion flying past their aircraft, Weigand executed a hard turn to starboard to avoid it as the MiG crashed to the ground in a huge fireball. The was no parachute seen to indicate that the enemy pilot had ejected and it was readily assumed that he met his demise instantly. But there was no time to contemplate the fate of the enemy pilot, Stillinger, Olin, Weigand and Freckleton were still in deep jeopardy.

The Red Crown controller, (Chief Larry Nowell) who had been out of radio contact with the two Phantoms during their low level battle, eventually was able to contact the flight and warn that 6 MiG-21's that were closing at a high rate of closure in an attempt to get into Atoll firing position.
The two Phantoms successfully outran the MiG-21s and exited North Vietnam in afterburner. They were refueled from an airborne tanker off the USS Constellation and were able to make it back to the Coral Sea . Both aircraft executed victory roles and brought the F-4s back to the flight deck with 'OK-3' wires.
Many crew members of the ship must remember rushing out to the flight deck to greet the four aviators . Much of the victory that day belonged not just to the aircrews involved, but all those aboard the Coral Maru steaming in the tepid waters and hot humid air of the Gulf of Tonkin in March 1972. The victory belongs to the ship- USS Coral Sea (CVA-43).
For all those who flew, maintained or supported NL-201 back in 1972, it will be interesting to know that the airplane still exists. It's on a pedestal just inside the front gate at NAS Key West, Fl. The present Sundowners (VFC-111) had the plane re-painted to look similar to the way it was aboard the Coral Maru back in '72. The squadron got myself and Garry Weigand back to Key West for a dedication ceremony on 21 March 2008. Here are some of the pictures. For ID purposes, Garry is slightly taller.
- Bill Freckleton, RIO in Old Nick 201 (BuNo 153019) on 6 March 1972.

* Click on any thumbnail to start a slide show of these images *
---
- VF-151 "Vigilantes", CVW-15, USS Coral Sea (CVA 43), Aircraft flown by LCdr. Dan Macintyre and Ltjg. Alan Johnsonon MiG-17 kill of 6 Oct 1965

[Image Source - Lou Drendel]
- VF-151 "Vigilantes", CVW-15, USS Coral Sea (CVA 43), Aircraft flown by LCdr. Claude D. Clower and Ltjg. Walter O. Estes probable MiG-17 kill of 19 Nov 1967. [Picture of F-4B taken two months prior to MiG engagement.]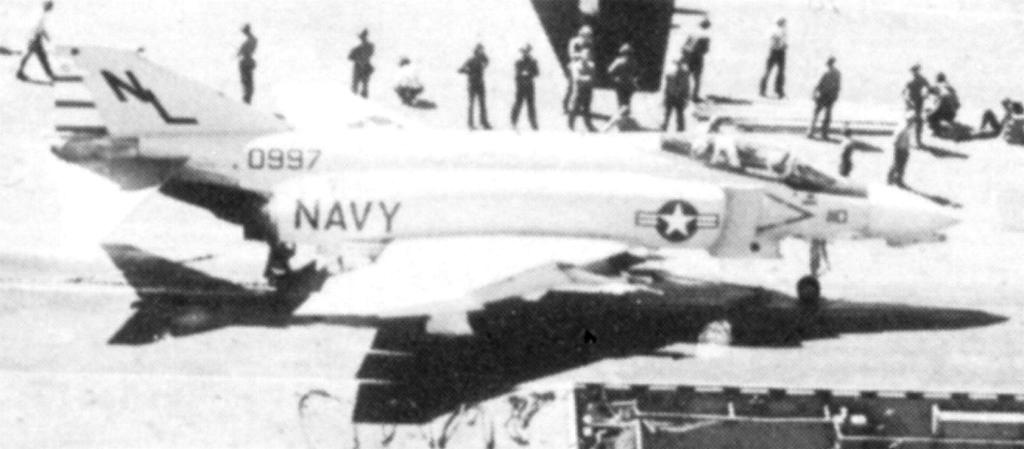 [Image Source - US Navy]
- VF-111 "Sundowners", CVW-15, USS Coral Sea (CVA 43), Aircraft flown by LT Garry L. Weigand and LTJG William C. Freckleton on MiG-17 kill of 6 March 1972

[Image Source - www.markwaki.com]
- VF-51 "Screaming Eagles", CVW-15, USS Coral Sea (CVA 43), Aircraft flown by LT Jerry B. Houston and LT Kevin T. Moore on MiG-17 kill of 6 May 1972

[Image Source - www.markwaki.com]
- VF-51 "Screaming Eagles", CVW-15, USS Coral Sea (CVA 43), Aircraft flown by MiG Killers LT Kenneth L. Cannon and LT Roy A. Morris on MiG-17 kill of 10 May 1972

[Image Source - Mark Styling]
- VF-51 "Screaming Eagles", CVW-15, USS Coral Sea (CVA 43), Aircraft flown by MiG Killers Cdr. Foster S. Teague and Lt. Ralph M.Howellon MiG-17 kill of 11 June 1972

[Image Source - Mark Styling]
- VF-51 "Screaming Eagles", CVW-15, USS Coral Sea (CVA 43), Aircraft flown by MiG Killers LT William W. Copeland and LT Donald R. Bouchoux on MiG-17 kill of 11 June 1972

[Image Source - www.markwaki.com]
- MIG Kills from 1972 WestPac marked on Vultures Row.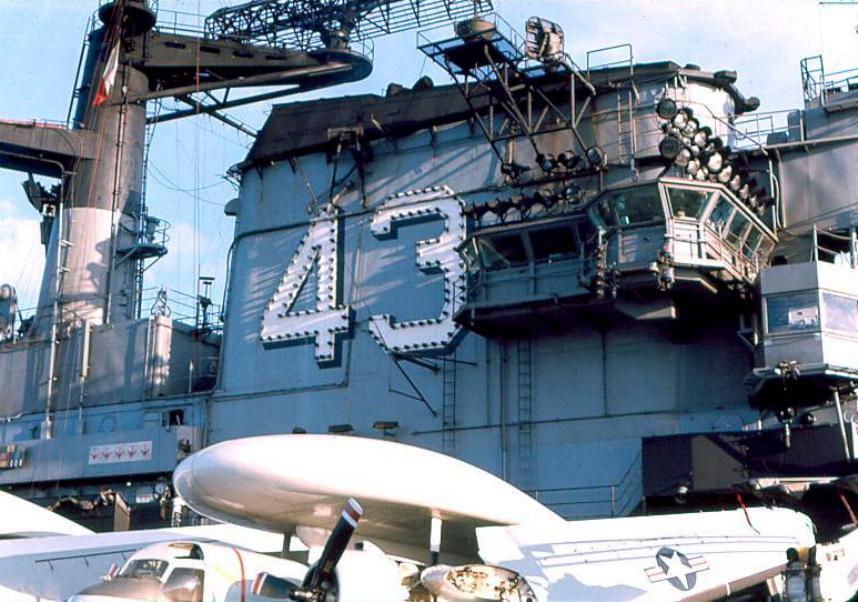 [Image Source - Doug Smith]