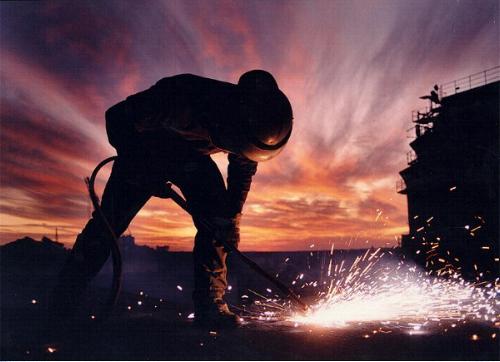 This page is dedicated to the memory of
~ Kerry L. Ellis ~
Keel Laid: July 10, 1944 - Keel Scrapped: August 9, 2000
As you know, it is traditional to make the first entry in the log of a commissioned ship each New Year in verse. We keep a log at the breaking site. The writer penned this on the last day of 1998. That turned out not to be the "penult'mate" year, however, but it seemed that it would be that cold New Year's Eve as the ship rested surrounded by ice in the harbor at Baltimore.
Coral Sea Reflections At Year's End
Country music sets the mood,
Sad, sweet sentiments, so I brood
And think of what has happened here
Throughout the old and passing year.

Coral Sea is almost gone.
All the planes from her have flown
Long ago; yet her ghost is anchored here
Waiting for her final year,

Like an old and obese lady, sprawled upon the ice,
Her underwear exposed. To gawk is less than nice,
Yet it is a spectacle rare and filled with wonder,
All that material kept secretly down under.

Boilers open to the sky, bull gears bathed in daylight,
It seems a sacrilege to glimpse this sight
That all who lived in her worked hard to prevent.
She was old and tired and is now is nearly spent.

As a fog at dawn that lies upon the bay,
Warmed by the morning sun begins to fade away,
Will Coral Sea this cold New Year at last disappear;
I sadly think on this last day of her penult'mate year.
-A Government Contractor
The Scrapping: 1993 - 2000
Page last updated on Feb 13, 2016.
* Click on any thumbnail to start a slide show of the images on this page *