USS Coral Sea was put out of commission on May 24, 1957 to undergo an extensive 33 month overhaul and modernization (SCB-110A) at Puget Sound Naval Ship Yard, Bremerton, Washington. The modifications included adding a huricane bow, angle deck, elevators, catapults, electronics, habitability and much more. The USS Coral Sea was recommissioned on January 25, 1960.
* Click on any thumbnail to start a slide show of these images *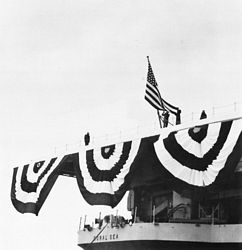 [Image Source - US Navy]
Dressed for recommissioning.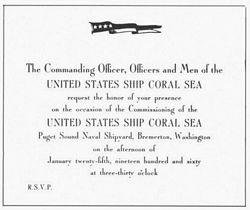 [Image Source - US Navy]
Recommissioning Ceremony Invitation.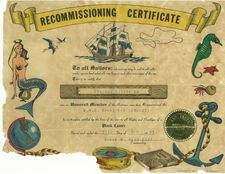 [Image Source - Ted Hillis]
Recommisioning Certificate aka "Plank Leaser"
Recommissioning Program
* Click on any thumbnail to start a slide show of the images on this page *